Viña Albina Vendimia Seleccionada -Magnum-
Reserva
QDO Rioja
2016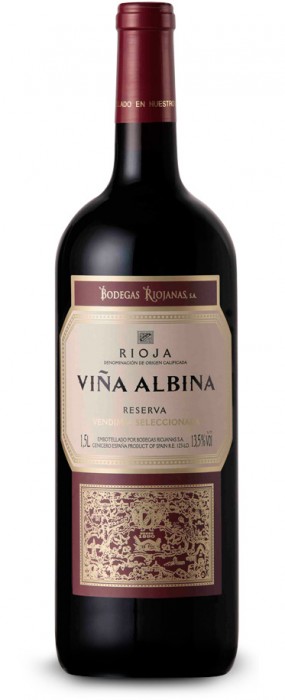 Grape varieties
80% Tempranillo. 15% Mazuelo. 5% Graciano. Grapes coming from Cenicero, Sonsierra and Villalba de Rioja vineyards.
Elaboration
Classical vinification with destalked, crushed grapes, using new fermentation technology with long maceration.
Aging
Aged in American oak barrel for 24 to 30 months, and racking every six months. Aged in the bottle for 24 months, before being released into the market.
Tasting notes
Very representative within the classic wines from Rioja Alta. Selected from the best vintages. Cherry red colour with brick red tones. Elegant in the nose with fruity aromas and ageing shades, full of delicacy and plenitude. Persistent and fragant sensations, which entice you having a new sip. Good development in the bottle.
Designation of origin
QDO Rioja
Pairing
Meat, Fish and seafood, Cheeses, Poultry, Rice and pasta, Hotpots, Stews, Salads and vegetables
Occasion
Company meals, Family event, Meal with friends
Place
Home, Traditional restaurant, Modern cuisine or international restaurant
Style
Classic, Elegant, Exclusive
Related
Wines you should try if you liked
Viña Albina Vendimia Seleccionada -Magnum-