Monte Real de Familia -Magnum-
Reserva
QDO Rioja
2016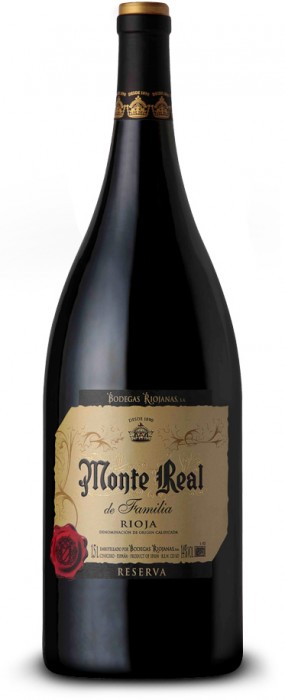 Grape varieties
100% Tempranillo. All grapes are from Cenicero.
Elaboration
Classical vinification with destalked, crashed grapes using the lasted fermentation control technologies and long maceration periods.
Aging
Aged for 24 to 30 months in American casks. Aged in bottle for at least 24 months before putting on the market.
Tasting notes
Unmistakable personality of Cenicero wines. This wine has a very intense cherry colour with a tawny rim. On the nose clean and powerful aromas, with an harmonious blend of ageing in oak and vinous notes. In month wide structure tasty, with nice body. Polished and smooth tannins. Aromas extend retro-nasally, with a long, persistent finish. Very well developed and mature, it guarantees a long life in the bottle.
Designation of origin
QDO Rioja
Pairing
Meat, Stews, Cheeses, Poultry, Hotpots
Occasion
Company meals, Family event, Meal with friends
Place
Home, Traditional restaurant, Modern cuisine or international restaurant
Style
Classic, Exclusive, Elegant
Related
Wines you should try if you liked
Monte Real de Familia -Magnum-