Gran Albina
Vendimia
QDO Rioja
2017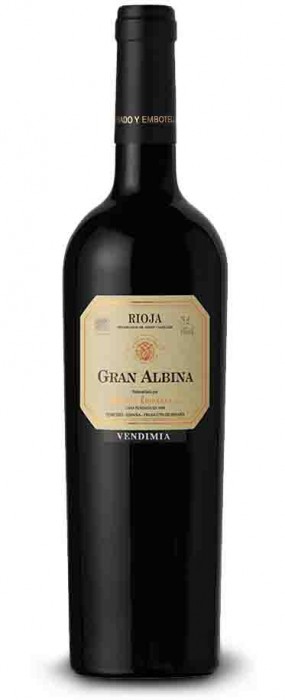 Grape varieties
Tempranillo, Mazuelo y Graciano. Varying the blending depending on the vintage. Selected grapes from the very best old vineyards of Cenicero.
Elaboration
The grapes are collected and put in boxes, once they get they are selected by hand. An experimental winery, that has developed the most advanced enological techniques, is in charge of the many different steps of vinification and new fermentation processes of ultramaceration.
Aging
Aged for 20 months in the best new American  (34%),  French (33%) and European (33%) oak casks. Aged in the bottle for at least 12 months before being released.
Optimal temperature
Served between 16º and 18ºC.
Tasting notes
A superior, unparalleled, very special wine in tune with today's trends. Deep, dark chery red. Full of aromas and perceptible fruitness enveloped in excellent wood. Good structure in the mouth, concentrated, full of oily tannins, balanced and rounded. A delicious, long fish. A great wine with character and personality.
Designation of origin
QDO Rioja
Pairing
Rice and pasta, Poultry, Stews, Hotpots, Meat
Occasion
Company meals, In couple, Meal with friends, Family event
Place
Home, Traditional restaurant
Style
Modern/Innovative, Elegant, Bold
Related
Wines you should try if you liked
Gran Albina