Viore Bierzo
Cosecha
D.O Bierzo
2019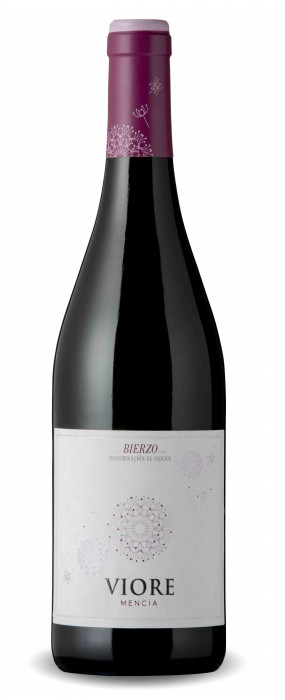 Grape varieties
100% Mencíavariety
Vineyard
The  grapes came from vineyard saveraging 80 years old with three arms bush trained vines, located in the central area of Bierzo, bordering St.James`s Way, real transmitter of the wine`s culture.
Some are placed in low angled terraces close to the river and others in steep slopes at an altitude of 500 to 700m.Calcareous clay soil, rich in pebbles and alluvial materials. The Sierra de los Ancares acts as a natural barrier against the Atlantic depressions, generating a continental climate with Atlantic influence.
Harvest
Mencía is a variety with small yield, it makes the best of the vegetative cycle, as it is a nearly sprouter and maturates quite early. The grains from this variety are medium size with a bluish black colour, thus a selection by plots is a must, obtaining the maximum expression of fruity and floral primary aromas. Manual harvest.
Elaboration
Fermentation is carried out with destemmedand slightly crushed grapes in stainless steel deposits with the most modern techniques of temperature control, pumping overs and maceration.
Tasting notes
Deep red cherry colourwith violet shades. Intense varietal aromas to red fruits such as strawberry and cherry as well as fine lactic and mineral hints. In mouth is a wine with body, but at the same time round and easy to drink. Floral aftertaste with fruity and mineral aromas appearing again. Specially suited for red meats, dried meat and game.
Designation of origin
D.O Bierzo
Related
Wines you should try if you liked
Viore Bierzo