Viña Albina Verdejo
Cosecha
D.O. Rueda
2019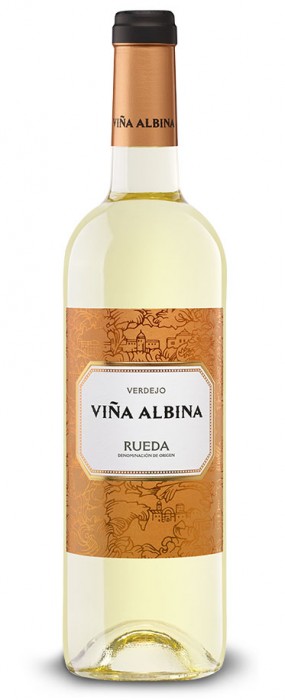 Grape varieties
Viña Albina Rueda is made from a fine selection of 100% Verdejo grapes coming from vineyards located in Rueda and La Seca.
Vineyards
Parcels in Rueda: 'Reguilón' and 'Valdeculebro'. Parcels in La Seca: 'Los Tordos' and 'Almendreras'.
Vineyard age: older than 10 years. Vineyard: Trellis driving system. Altitude 700-800 metres. Production between 7.000 and 8.000 Kilos/Hectare.
Poor soils covered with plenty of rounded cobbles.
Harvest
At night time, and each parcel is harvested at the right moment of ripeness.
Winemaking
Short, cold maceration (8-10ºC).
Grapes are low-pressed in order to obtain the best quality must. Stating racking at low temperature.
Controlled fermentation at 15-16ºC in stainless steel deposits.
Permanence in fine lees for about 3-4 months.
Data
Alcohol (%vol): 13%%   Residual Sugar level (g/l): 2    Total acidity (g/l TH2): 5,5
Allergens
Gluten Free. Suitable for Vegans. It contains sulphites.
Tasting notes
Light, bright yellow with greenish hues. Intense, complex and elegant aromas. Strong, fruity aroma which blends white fruits (apple, pear)  with tropical touches. Herbal aromas are also present (fennel, camomile) on a balsamic appearance.
Fruity taste in mouth, fresh and balanced, with a hint of bitterness at the end, characteristic of the Verdejo variety. Its aging on fine lees allows this wine to have a great structure and persistence by leaving a long lasting memory on the palate.
Pairing
Suitable for appetizers and ideal to pair with fish, seafood, rice, pasta and white meats. It is ideal to pair with smoky food, fresh cheese, sushi and Iberian ham. 
Designation of origin
D.O. Rueda
Pairing
Rice and pasta, Fish and seafood, Cheeses
Style
Modern/Innovative, Bold
Related
Wines you should try if you liked
Viña Albina Verdejo